Want a simple, easy-to-apply way to energize your life? Does a duck quack in the woods? Of course you do.
For the last eleven years, the focus of my career has been helping people create careers and lives that energize and inspire them. Along the way, I have found a simple idea (I like simple) you can use to consciously, purposefully raise the energy in your life.
I call it "maximizing the Gain-to-Drain Ratio."
Conceptually, it couldn't be simpler. All you do is:
Bring as much as possible of what gives you energy (the Gain part of the equation)
Do whatever you can to minimize the things that drain your energy.
The Gain-to-Drain Ratio is essentially a fraction. Visually, the idea looks something like this: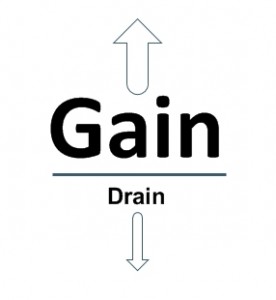 The more you can incorporate the kinds of things that energize you into your life, the more Gain you have. And the more you can change the things that suck your energy away, the smaller your Drain will be.
You can use the Gain-to-Drain Ratio to examine your life in 360 degrees. Look at the different areas of your life, like:
Attitudes & Beliefs
Finances
Health & Wellness
Hobbies & Activities
Home Environment
Meaning & Making a Difference
Relationships

Romantic
Friends
Family
Professional
Community

Sex & Sexuality
Spirituality
Work
Once you identify your Gains and Drains, you can ask questions like:
What can I easily bring more of into the picture?
What can I easily change?
Which changes would make the most impact?
Which changes do I want to prioritize?
As with so many things, much of maximizing the Gain-to-Drain Ratio is about awareness. You can't change what you aren't aware of. Examining the Gain and Drain breaks it down into specific, tangible things to work on.
–
Want to join the Ripple Revolution?