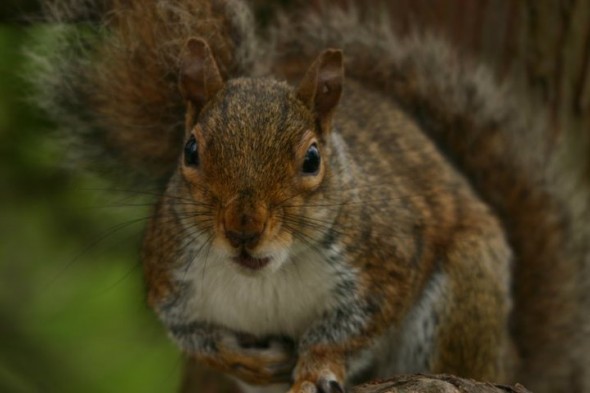 When I watch squirrels flying at mach speed from branch to branch up and down trees, I'm always amazed. It seems impossible that they can go so fast and so adeptly. The seem to always land just right with each leap.
At least that's what I used to think. I have a tree right outside my window on the third floor that has afforded me a squirrel's eye view of their antics. And since I started watching them more closely, I realize that they're not quite as sure footed and precise as they seem at first.
In fact, I frequently see them jump and lose their balance. They overshoot their mark, or have too much momentum. They do the squirrel equivalent of stumbling, but it never phases them. They just keep on going. Watching them, it occurs to me that there is a lot to be learned from squirrels. (Warning: Heavy-duty dose of anthropomorphication  coming up.)
Stumbling is a part of life
Squirrels don't say, "Uh-oh, I might stumble here…maybe I shouldn't jump." They just do it. And when they lose their balance, they don't create a big story around it that keeps them from jumping to the next branch. They just deal with it and keep moving. It's all part of living the life they were meant to live.
They use their natural abilities
Part of what makes the squirrels so effective is that they're doing what they were designed to do. They don't try to shove themselves into some other role where they would be infinitely less effective, and infinitely less confident in their abilities.
They don't stay in their stumble long enough for it to matter
Sometimes, the momentum from a stumble just becomes the momentum for a not-so-graceful jump to the next branch. "Oops! That didn't work. Next!" And because they just keep going, the forward momentum eclipses any momentary loss of balance.
They don't care about getting points for style
They don't worry about what other squirrels will think about how they look. It's not about doing it perfectly. They're not looking to get validated by getting points for style. They just do it.
If one branch doesn't work, there is always the next one
There are always more branches to jump to. As mentioned above, a jump and stumble can be turned into a jump to the next branch. They don't have a myopic view of having to succeed in any individual leap.
I love the lessons to be learned from nature. There's always a good reminder of something important right around the corner. What about you? What kinds of lessons have you learned from animals/plants/etc.?
–
Want to join the Ripple Revolution?