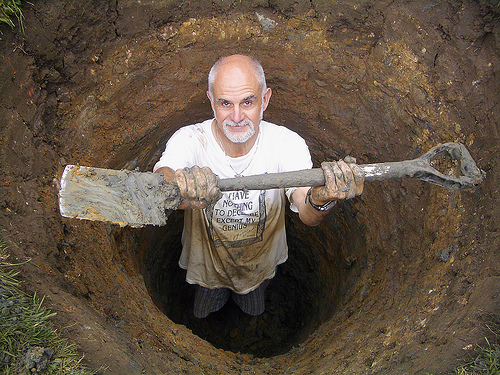 I have a love/hate relationship with the self help industry.
On the one hand, I love it because I know how powerfully positive the results of personal development work can be. On the other hand, the implied message is so often, "you're not good enough the way you are." There's a hole you need to fill in. It's like deficiency-based advertising, masquerading in a feel-good costume.
At the heart of that "not good enough" message is a should. You should be happier. You should be more ____. You should be less ____. You should achieve more. You should. You should. You should.
To avoid the soul-sucking energy drain of deficiency-based self-help, try using these three steps as a framework for your efforts.
Step 1: Accept
Listen, what we typically think of as perfection doesn't actually exist in your life. And it never will. So doesn't it seem like a big stinkin' waste of energy to try to create it? Trying to achieve that personal development nirvana, where everything in life is perfectly in synch, is a recipe for getting the life sucked out of you by a feeling of insufficiency and lack.
What if, instead of trying to keep up with the self-help junkie Joneses, you took a completely different different tack? What if your first step in your personal development wasn't change, but acceptance?
Acceptance of your current state can have an energizing effect. When you stop being pissed off about what is less than preferable, you stop spending on it. And energy not spent is energy you have available for more positive and productive things.
 Step 2: Appreciate
If you want a simple, immediately implementable way to improve how you feel in your life, start with gratitude. Research has shown that gratitude can have a significant impact on both your mental and physical health.
From a common sense perspective, think of it this way:
You notice what you focus on.
What you focus on grows.
When you start focusing on things to appreciate, you notice more things to appreciate. It's as though things to be grateful for magically pop up like mushrooms after a rainstorm. In reality, they were already there, you just weren't consciously stopping and acknowledging them.
The more you make a habit of gratitude, the more things you notice to be grateful for, and the more opportunities to be grateful you create. It's a virtuous cycle.
Step 3: Improve
Just because you accept and appreciate your life as it is doesn't mean there's no room for improvement. There will always be opportunities for us to grow and evolve.
The first two steps helps you avoid deficiency-based thinking in your personal development efforts. It helps you approach it with a sense of building, rather than trying to fill in a hole.
Sure, there are things that need improvement, maybe even urgently. But there's a big difference between "I need to remove this obstacle that is keeping me from moving forward" and "I'm not good enough as I am."
Even though I outlined these three steps in a linear format, in practice they actually unfold simultaneously and continuously. Acceptance and appreciation is an ongoing effort to provide a solid foundation for your improvement to unfold.
[image by coljay72]
–
Want to join the Ripple Revolution?